Riverside Court Santa Maria California – Santa Maria Valley Real Estate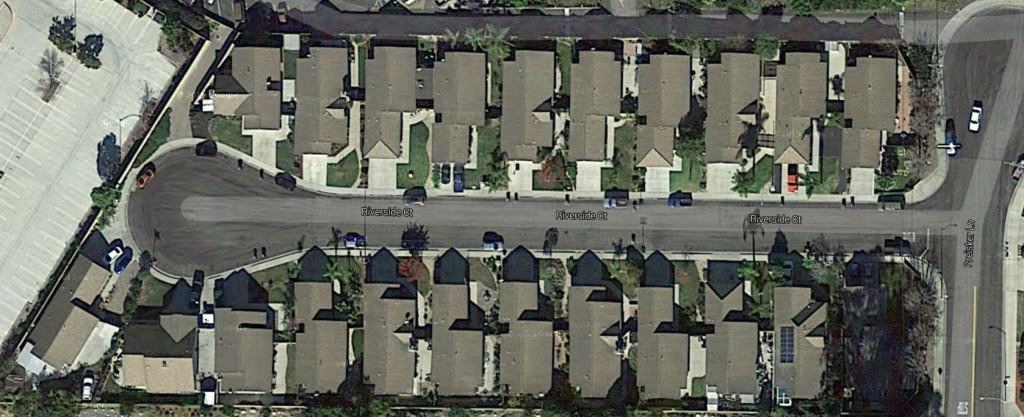 Where is the Riverside Court Santa Maria? Form highway 101 exit Broad Street, at the first stop light go right on Preisker Lane past Preisker Park. At the Hidden Pines Way, intersection goes straight and make a left on to Riverside Court.
Riverside Court is a small development of 22 single family homes. These homes are all single level homes with a two car garage, stucco exterior, the Mediterranean feel with trees and palm tree's out front, and concrete tile roofs for low maintenance. Riverside Court development was constructed between 1998 and 1999. The homes range in size from 1,120 sq. ft. to as large as 1,435 according to the MLS records. I have shown a few homes in this development over the years and they do have high vaulted ceilings in the living area. The layouts I have been in have been very practical and feel very spacious for around 1,200 sq. ft. The homes I have viewed feel a bit larger than the stated size.
Currently, on the Central Coast MLS, I don't have any active listings or homes available for purchase. The Santa Maria market is currently very competitive if you are looking for a new home. If you are a homeowner looking to put your home on the market and need help establishing a value please use www.FreeHouseQuotes.com to get your free home quote. This is a great tool that my sellers have used to help them decide if now is the right time to sell. If you are looking to sell in the next few months please give it a try today.
Santa Maria home buyers, it's a tough market currently however not impossible. The first things are to know what you qualify for and what price range you are comfortable with looking at. When you pick a home please don't just pick the agent by default, I have 650 sold homes under my belt and would love the opportunity to earn your business. Please visit my web page www.JamesOutland.net and search for Santa Maria homes for sale.
The most recent sales activity I show on the MLS for Riverside Court dates way back to 2010. This could be because a home could have been sold as a "for sale by owner", or a bank may have decided to sell it on an auction site that doesn't report to our local MLS.
The last homes that sold in 2010 are:
246 Riverside Court Santa Maria 3 Bedroom 2 Baths 1200 Sq. Ft. built in 1998 and sold for $210,900
222 Riverside court Santa Maria 3 Bedroom 2 Baths 1245 Sq. Ft. built in 1998 and sold for $204,000
The location of the development makes access to the freeway or shopping on Broadway a breeze. There is also Preisker Park immediately to the south of Riverside Court.
Other Developments in Santa Mara include Essex at Willow Creek, NewCastle at Willow Creek, Parkside, Cherry Blossom Ranch, Regency Estates, Priesker Gardens, and Hidden Pines Estates
My service area is Santa Maria, Pismo Beach, Arroyo Grande, Shell Beach, Avila Beach, San Luis Obispo and beyond. I have sold hundreds of homes in San Luis Obispo and North Santa Barbara County.
#RiversideCourt #SantaMaria #RiversideCourtSantaMaria #SantaMariaRealtor #Outlandandassociates #JamesOutlandJr #Realtor #RealEstateAgent #FreeHouseQuotes
My Social Sites:       Facebook            Linked In              YouTube Channel
Riverside Court Santa Maria California — Real Estate Market Update July 2015
Created by James Outland Jr. – Driven to Help You Succeed
---