Beachcomber Pismo Beach

Beachcomber Pismo Beach is located in the area known as Shell Beach.  It does share the same zip code as Pismo Beach however the locals still define Shell Beach as Shell Beach.  How do you get to view the homes or the par on Beachcomber Pismo Beach?  Take Highway 101, exit the Spyglass Drive in Shell Beach, head West toward the ocean, turn North on Shell Beach Road, pass Dolphin Bay, The Cliffs and keep an eye out for North Beachcomber or Beachcomber. If you follow either one of these roads towards the ocean you will see a strip of grass knows as South Palisades Park.
The single family homes on the South side of North Beachcomber can have a wonderful view looking into the Port San Luis and Avila Beach area, the homes located on the North side of Beachcomber have wonderful views looking towards the City of Pismo Beach and its pier, the dunes, and Point Sal, however the homes located closest to the ocean have gorgeous unobstructed views from Port San Luis In Avila to Point Sal.  My office is just down the street so I grabbed a quick 8 second YouTube video of the Park and views the homes at the end of Beachcomber Pismo Beach have, enjoy.
There are five homes on Beachcomber that front the ocean, and 21 other homes with great ocean views. Green Dolphin Townhomes are also on this street, but more information about them can be found here.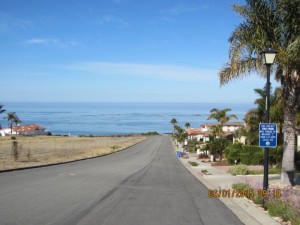 If you are in the Real Estate market for a luxury Pismo Beach property take a spin on Beachcomber Drive and North Beachcomber Drive to see the wonderful ocean views these property enjoy.  If you want to search luxury Ocean front properties for sale please visit my web page https://jamesoutland.net/PismoBeach/LuxuryEstateHomes.
The most recent luxury home sold home on Beachcomber Pismo Beach was the home at 143 N Beachcomber Pismo Beach, Ca 93449.  The home features four bedrooms, four full baths with one quarter bath, 2003 Construction, Large home at 3561* Square feet, sold for  $1,400,000 on January 30th of 2015.  The home had views of Port San Luis towards the lights house, great views off the patio, two car garage, Mediterranean inspired with stucco exterior, Spanish styled roof, very usable floor plan and much more.
Shell Beach reminds a lot of people from the Newport Beach area of the way they were 30 years go.  We still have minimal traffic most of the year however increases as the summer time comes around as we get visitors travelers from Los Angeles to San Frisco taking the scenic HWY1 and of course a lot of the Central Valley like to make it out the Pismo Beach and Central Coast to get away from the extreme heat of the Central Valley.
If you are looking to list/ sell your Luxury Estate Ocean Front Property please go to www.FreeHouseQuotes.com for a current Market Valuation for similar homes that have sold In Pismo Beach and the Shell Beach Real Estate Market.
If you are looking for other Luxury Ocean front homes in Shell Beach Please visit my other links for The Bluffs at San Luis Bay, Indio Drive and El Portal Drive.  If you are looking for more information about other developments in the area like Sunset Palisades, Green Dolphin Town Homes, Sea Ridge Condo's, and Ebb Tide Condos development.
Some luxury home Developments on the East side of the 101 include Spyglass Pointe, Spyglass Ridge, The Villas at Rancho Pacifica, Rancho Pacifica, Play Del Sol, and Emerald Pointe.
My Social Links: Facebook   LinkedIn   YouTube Channel
If you love great weather, smaller town environment, wonderful Pacific Ocean views please email me James@Outlandinc.com with any local Pismo Beach or Shell Beach Real Estate Market Questions.
I look forward to talking with you about the beautiful Central Coast.
Driven to help you succeed  –  James Outland Jr.