The Highlands Rancho Grande Arroyo Grande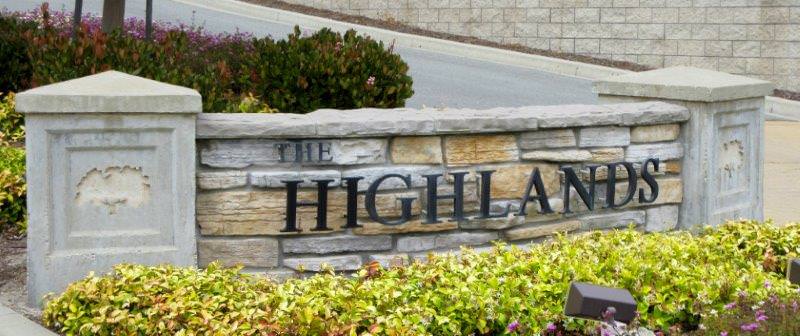 Welcome to The Highlands Rancho Grande Arroyo Grande development. The builder of this subdivision was Castel Rock Development.
Directions:  From Highway 101 get to Oak Park Road going North, go East on James Way Follow James Way to La Canada and turn left. The entrance of the Subdivision will be ahead right before you get to Asilo Street.  This is one of the newer large planned subdivisions on the east side of Arroyo Grande featuring 219 single family homes.
The Highland features stucco exterior, concrete tile roofs, the home size range from 1,700 to as large as 3,793 Sq. Ft, lots range between 5,000 to 43,560 Sq. Ft, however most of the larger common lots for that development is half an acre.  There are larger lots at the end of Castillo Court and two near the corner of Puesta del sol and Vista Drive, and from the end of west los ciervos cul de sac on the South side.  I have been in a few homes on Los Ciervos Way that have great Pacific Ocean an Hill views.  The development also has lots of oaks around the development. The homes according to the MLS we built between 1996 and 2008, however the most in the development were built out between 1998 and 2003.
The roads in this subdivision include La Canada, Asilo Street, Paraiso Court, Castillo, Vista Drive, Puesta Del Sol, Los Ciervos, Rosemary Lane and Sombrillo, Salida Del Sol.
Does The Highlands Rancho Grande track have a Home Owners Association, if so how much?  Yes, The Rancho Grande homes do carry a small Home owner Fee of $30.00 per month that covers the common area maintenance.
Currently there is one home in The Highlands Rancho Grande that is listed for sale, however that can change at any time so please be sure to check out the www.JamesOutland.net property search for current Arroyo Grande homes for sale.
If you are looking to list your Highlands Rancho Grande home please go to www.FreeHouseQuotes.com for a free market evaluation today.
The market is on the move again and at this time two homes are for sale within The Highlands Rancho Grande development and both are pending; 640 Asilo and 590 Rosemary Lane.


https://ec2-35-167-6-250.us-west-2.compute.amazonaws.com
Subscription has expired
Please
click here
to get up and running
Search near by developments below or click to view all
Arroyo Grande California Homes For Sale.
Below are the most recent sold for 2015 The Highlands Rancho Grande Arroyo Grande please note all three sold in under 24 days!  If you are serious about the market you need to be getting updates from me directly.
572 Rosemary Arroyo Grande Ca 93420 3  Bedrooms 2 (2 0 0 0) Baths 2145 Sq. Ft. 0.2470 Lot Size 2001 Year Built sold for $769,000 on 03/17/15
250 Puesta Del Sol Arroyo Grande Ca 9340 3 Bedrooms 2 (2 0 0 0) Baths 2382 Sq. Ft. 0.2152 Lot Size 2000 Year Built Sold For $775,000 On 03/27/15
243 Salida Del Sol Arroyo Grande Ca 93420 5 Bedrooms 5 (4 0 1 0) Baths 3779 Sq. Ft. 0.3147 Lot Size2003 Year Built Sold For$1,200,000 on03/31/15
If you are a Real Estate professional who is looking to refer a client due to relocation, retirement, job transfer, buying up or downsizing for the Arroyo Grande, Ca area please email me at James@Outlandinc.com to talk about getting a referral.
My Social Links: Facebook    Google+   LinkedIn   YouTube Channel
Arroyo Grande Real Estate subdivisions in the area include Equestrian, Village Glen, Royal Oaks Patio Homes, Royal Oaks Single Family, Grace Lane, Rancho Grande, Los Robles De Rancho Grande, Las Jollas De Rancho Grande.
#TheHighlands #ArroyoGrandeHomesForSale #ArroyoGrande #ArroyoGrandeRealtor #RealEstateArroyoGrande #JamesOutlndJr #Realtor
The Highlands Real Estate in Arroyo Grande California, San Luis Obispo County on the Central Coast Real Estate Market updates.
I look forward to helping you with your Real Estate's needs.
Author James Outland Jr
---