The Equestrian Area of Arroyo Grande with the city limits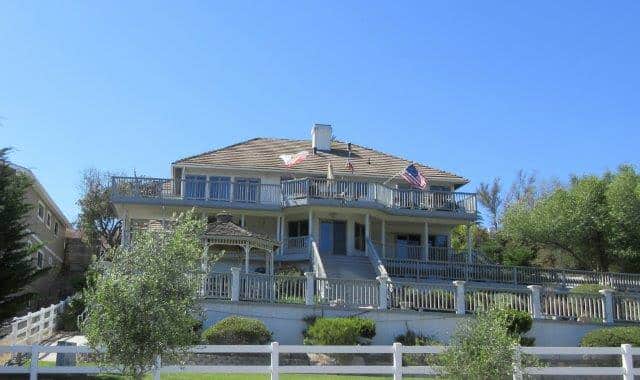 Directions to The Equestrian Area of Arroyo Grande, from the intersection of Highway 101 and Oak Park, Go East on Oak Park Ave, make a Right Turn on James Way and then turn left on to Equestrian Way.
The Equestrian area in Arroyo Grande is considered to be behind the Oak Park Villas subdivision off Oak Park, James Way, and borders The Highlands and the phase 3 of the Rancho Grande called Las Jollas De Rancho Grande. This is a popular are of Arroyo Grande for the location, the homes wind up the hill side offering some great views, and many perfectly size lots. The Equestrian area of Arroyo Grande is also with the city limits so you have the benefit of having city services.
The streets in the Equestrian Area of Arroyo Grande include Stevenson Drive, Hodges Road, Acorn Drive, Equestrian Way, Oak Leaf Circle, Mustang Circle, Scenic Circle, Vista Circle, Vista Drive, Arabian Circle, and Deer Trail Circle.
The homes at the top of Equestrian do have a Home Owners fee around $20.00 a month, in that area equestrian horses are allowed. Not all homes in the equestrian area may allow horses; it depends on the track within the equestrian area.
This is an established area of Arroyo Grande with the homes that can span a few decades in age. I have noticed over the years a lot of the older homes and not so old homes have been remodeled or fixed up over the years. This are reminds me of the Shell Beach market because if you want to be in this area and live this life style you're going to have to consider getting an older home and look at the option of doing a remodel to give it that newer feel. When you look at listings in the area you will see a range of homes that look like time capsules to homes that have remodeled. To view homes for sale in the city of Arroyo Grande please visit my MLS IDX property search Page at www.JamesOutland.net
If you have a home and are looking to list your home and looking for local Real Estate Agent for the Arroyo Grande Real Estate market please go to www.FreeHouseQuotes.com to get started to find out what your home could list for in today's market. When I get back to you I will be glad to work with you answering any questions on the sale of your home you may have.
Equestrian area of Arroyo Grande, Ca. please zoom out to see the defined location.



https://ec2-35-167-6-250.us-west-2.compute.amazonaws.com
Subscription has expired
Please
click here
to get up and running
Central Coast Arroyo Grande California Home Serach click here
Two of the most recent home sales for the Equestrian area of Arroyo Grande for 2015:
72 Equestrian Way Arroyo Grande Ca 93420 4 Bedrooms 3 (3 0 0 0) Baths 3479 Sq. Ft. 1.1500 Lot Size 1989 Year Built sold for $905,000 11/05/14
748 Scenic Circle Arroyo Grande Ca 93420 3 Bedrooms 3 (3 0 0 0) Baths 3112 Sq. Ft. 0.4637 Lot Size 1988 Year Built Sold for $1,225,000 on 10/07/14
The equestrian had a lot of homes go the market in 2012 and 2013, 11 in totals, however according to the MLS only three homes have been on the market in 2014 and 2015 so far. If you are looking for a home in this specific area I would highly recommend being set up on the MLS for property updates as the average days on market for the last few listings has been less than 80 days. If you would like be on your own custom portal please email me James@Outalndinc.com.
Agent James Outland Social Links:   Google+             Facebook            Linked In              YouTube Channel
#Equestrian #HomesForSale #ArroyoGrande #FreeHouseQuotes #Saleofyourhome #SellmyHouse
Real Estate Market update for the Equestrian Area of Arroyo Grande August, 2015
My service area includes both San Luis Obispo County and Northern Santa Barbara County on the beautiful Central Coast.
Driven to help you succeed
James Outland Jr.
---