Regency Estates Santa Maria California – A Central Coast Gated Community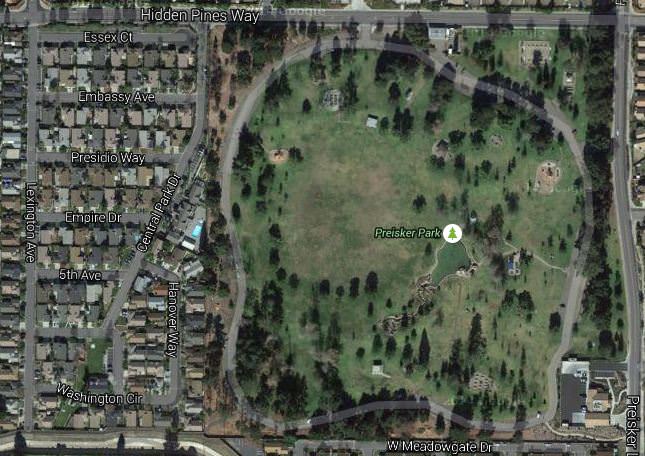 Where are the Regency Estates? The Regency Estates are in Northwest Santa Maria, just west of Preisker Park and is located off of Hidden Pines Road across from Hidden Pines Estates.
Directions to Regency Estates from Highway 101: take the Broadway Exit, make a right on Preisker Lane follow that down to Hidden Pines Way and make a left, just after the park the first street to your left will be the Central Park Drive what is the main Entrance into Regency Estates.  This is a very New York inspired street name development.  The streets behind the Regency Estates gates include Central Park Drive, Hanover Way, Lexington Ave, Essex Court, Embassy Ave, Presidio Way, Empire Drive, 5th Ave, Stoney Park Lane, and Washington Cir. Anyone else thinks it's a bit funny that the only thing that's is in a circle in the subdivision is Washington, I bet someone was having fun when they created this development.  Then again maybe it was accidental but I'll let you be the judge.  Ok back to more information on Regency Estates Santa Maria California, This development features 134 homes single family homes. The homes in Regency are all single level, single family homes, with a homeowners association that maintains the common area, clubhouse, and the security gate.  The current fee is $140.00 and is paid monthly as of August 2th, 2020. The Regency Estates Development was built out between 1990 and 1996 with homes that range in size from about 1,000 sq. ft. to about 1,500 sq. ft.  If you would like a tour of Regency please call me to schedule a showing of what homes are available in the Regency Estates Santa Maria market.  I just did a search on August 2015 and no active homes were for sale, but there was one pending.  If you would like to search current Santa Maria homes for sale for Regency and other subdivisions please visit my link for current Santa Maria homes for sale.
If you are a homeowner in Regency Estates or have any information you would like to share, floor plans, brochures, or about why Washington Cir is in the Regency Development please email me James@Outlandin.com subject Regency Estates Information.  Thank you.
IF you are looking to sell your home, let's get started by going to Free House Quotes, this site will help you establish a list price based on current comparable homes.  It's a great tool for any seller who is looking to sell in the next few months.  If your serious about selling your home don't forget I offer a sellers net sheet so you can see what proceeds you can expect from the sale of your home to move to your next real estate adventure.  If you need help finding an agent out of the area then Jo Ann Outland and I have a great network of Real Estate professional all across the country to help you if you're relocating out of the area.


https://ec2-35-167-6-250.us-west-2.compute.amazonaws.com
Subscription has expired
Please
click here
to get up and running
Regency Estates Santa Maria home for Sale 2015 – Santa Maria Valley Real Estate
514 Empire Drive Santa Maria Ca 93458 2 Bedrooms 2 Baths, 1076 Sq. Ft. lot size .090, Sold for $262,800 sold on May 21st, 2015
511 Stoney Park Lane Santa Maria Ca 93458 3 Bedrooms 2 Baths 1377 Sq. Ft lot size .090 Sold for $253,500 on March 10th, 2015
514 5th Ave Santa Maria Ca 93458 3 Bedrooms 2 Bath 1517 Sq. Ft. Lot .100 Year built 1994 Sold for $250,000 on February 20th, 2015
My Social Sites:     Facebook     Linked In    YouTube Channel
Other developments in Northern Santa Maria include: Essex at Willow Creek, NewCastle at Willow Creek, Parkside, Cherry Blossom Ranch, Preisker Gardens, Riverside Court, and Hidden Pines Estates
#RegencyEstates #SantaMaria #RegencyEstatesSantaMaria #SantaMariaRealtor #Outlandandassociates #JamesOutlandJr #Realtor #RealEstateAgent #FreeHouseQuotes
My service area is Pismo Beach, Arroyo Grande, Shell Beach,  Avila Beach, San Luis Obispo and beyond.  I have sold hundreds of homes in San Luis Obispo and North Santa Barbara County.
Regency Estates Santa Maria Aug 2015 Real Estate market update
Author
James Outland Jr.  Driven to help you succeed
---