Pismo Oaks Pismo Beach California Track Number 1204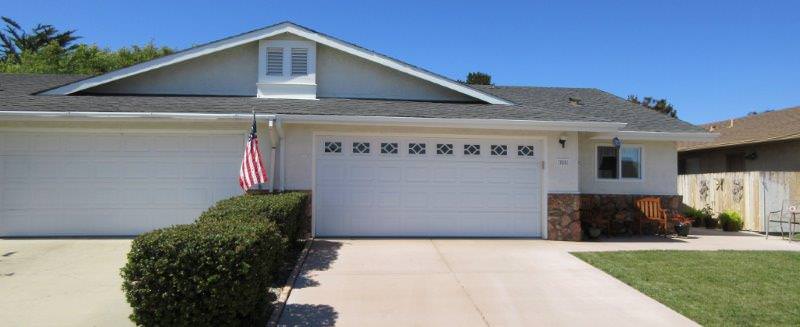 Directions: Where is the Pismo Oaks Pismo Beach Development:  Directions from Highway 101 North, exit the 4th street exit,  turn right on to 4th street then  right on James Way.  Pass Shamrock Lane and make a left on either Oakwood Drive or Ridge Road.
The Pismo Oaks area is between James Way, Panorama Drive, Oakwood Drive, and Ridge Road.

The streets in this development are Oak Wood Drive, White Oak Blvd, Panorama Drive, Parts of Ridge Road and Shamrock Lane.  The development is comprised of 108 home sites. This development has no HOA, so no fees; however it does have CCR's.  It's a mixture of twin homes and single family homes.  These homes are very popular because they are single level, mostly stucco exterior, and composition roofs.  They were built between 1983 and 1986. The standalone homes and twin homes range between 1000 Sq. Ft and 1398 Sq. Ft.  Homes In this area just don't seem to come around very often so when you find a good one you will need to be ready to move.  If you don't move quickly you will likely get aced out in today's current Pismo Beach Real Estate market.
The homes located to the North East generally have the best ocean views, also homes at the top currently have open land behind them; however at some point future development is likely to happen but I don't have any time frame if and when something would start.
Currently we have no available properties to purchase in the Pismo Oaks listed on our MLS for sale.  If you would like to see what other Pismo Oaks Homes or Pismo Beach Properties are available please visit www.JamesOutland.net  and search for Pismo Beach homes for sale.
If you are looking to sell your home I will show you some recently sold homes. However when you need to compare your home to recent sold Pismo Beach homes please go to www.FreeHouseQuotes.com for a current Pismo Beach home market analysis of what your home would be up against in today's real estate market.


https://ec2-35-167-6-250.us-west-2.compute.amazonaws.com
Subscription has expired
Please
click here
to get up and running
Recently Sold homes for the Pismo Oaks Pismo Beach, Ca 93449
780 Shamrock Ave Pismo Beach Ca 93449 3 Bedrooms 2 (2 0 0 0) Baths 1398 Sq. Ft. 0.1219 Lot Size 1986 Year Built Sold for $470,000 on 06/18/15
736 Panorama Drive Pismo Beach Ca, 93449 2 Bedrooms 2 (2 0 0 0) Baths 1212 Sq. Ft.  0.0812 Lot Size 1985 Year Built Sold for $425,000 04/21/15
Pismo Beach Real Estate around this area: The Villas,  Vista Pacifica Circle,  Pismo Oaks Twin homes area, Limerick and Shamrock Lane,  Single Family Homes on Narlene Way, Sea Country Estates and Toucan Terrace
Pleaes share this page on Facebook, Join my LinkedIn in Profile or view my latest YouTube video's at www.Youtube.com/outlandandassociates or follow Outland and Associates Real Estate on Twitter
#PismoOaks #PismBeachTwinHomes #PismoBeachTownHomes #PismoBeachHomes #PismoBeachProperty #RetirementHomes #HomesForSale #OutlandandAssociates
Pismo Beach Real Estate Market update for the Pismo Oaks Pismo Beach, Ca Central Coast
Driven to help you succeed
James Outland Jr
DRE#01314390
805-748-2262 Mobile
---