Los Robles De Rancho Grande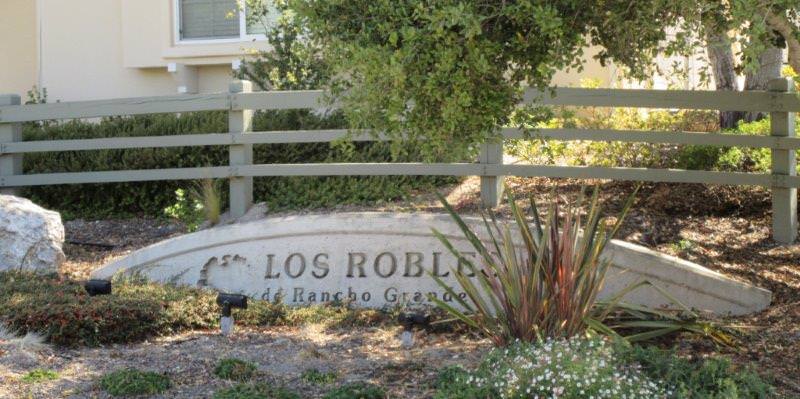 Los Robles De Rancho Grande is commonly known as the second phase of the Rancho Grande development in Arroyo Grande California.
Where is Los Robles De Rancho Grande? My directions are going to star at the corner of North Oak Park and West Branch Street. Head down West Brach Street past the Oak Park Plaza Shopping Center, follow this around until you reach Camino Mercado, you will see Panera Bread on your left. Make a left head up and around past the Premier Inns and your first street to your left will be Via Las Aguilas. If you take that all the way down until the end and you go through a narrow section you will be on Refugio this will be the end of Los Robles De Rancho Grande
Streets in the Los Robles De Rancho Grande are Dos Cerros, Via Las Aguilas, Calle Cuervo, Palos Secos, and Refugio Place,
The homes are situated on a hill; most lots have some slope to them however they also some have the benefit of ocean views while most have rolling hill views. Due to these homes being on a hill you tend to feel high up when you look out over the valley. The James Way side has a hillside full of oak trees, behind them and further down towards James Way is a walking trail.
The homes are very close to a few large shopping centers that have Walmart, Kmart, and OSH. Freeway access going north is great and easy as you can catch that right off Camino Mercardo. Going south is fairly easy as well head down to North Oak Park and cross over the freeway turn north past the AJ Spurs steakhouse and you'll see the North Highway 101 on Ramp. If you want to avoid the freeway and take the back road into San Luis Obispo Just head out North Oak Park to 227 and that will lead you into the City Of San Luis Obispo.
The homes that were built in Los Robles De Rancho Grande were built between 1995 and 2004. The homes are mostly all stucco exterior with concrete style roofs. This is great for our area and helps keep the maintenance down and makes this a great selling feature. Most designs. The size of the homes in this phase II development range from 2120 to around 3850 Square Feet. One thing I like about this area is the proximity to all the oak trees. The sure do make for some great BBQ's.
I should also mention that off of James Way Rancho Grande does have a park to enjoy if you are looking for more room to go play with the kids or grandchildren.


https://ec2-35-167-6-250.us-west-2.compute.amazonaws.com
Subscription has expired
Please
click here
to get up and running
Recent sold Home for Los Robles De Rancho Grande
551 Palos Secos Arroyo Grande Ca 93420 3 Bedrooms 2 (2 0 0 0) Baths 2337 Sq. Ft. 0.5300 Lot Size 1995 Year Built Sold for $865,000 on 04/24/15
170 Refugio Pl Arroyo Grande Ca 93420 4 Bedrooms 3 (3 0 0 0) Baths 3332 Sq. Ft. 0.4700 Lot Size 2002 Year Built Sold for $974,500 on 04/07/15
575 Dos Cerros Ct Arroyo Grande Ca 93420 3 Bedrooms 3 (1 1 1 0) Baths 3130 Sq. Ft. 0.7335 Lot Size 2001 Year Built Sold for $1,075,000 on 03/31/15
If you own a home in Los Rancho De Rancho Grande and are looking to list your Arroyo Grande home for Sale please visit www.FreeHouseQuotes.com for a free home market evaluation to find out what your home is worth today. This will help you find out if now is the right time to sell or not. My staff and I will look forward to helping you with your real estate needs.
Looking to retire to Arroyo Grande or the Rancho Grande subdivision? If yes and you would like to view homes at your own pace please save my site to your favorites! Search Arroyo Grande homes for sale. If you want a more custom experience to rule out two story homes or only want to see homes in a specific price range please ask me today to receive custom property updates from our MLS. It's free and easy to get started. You can call me at the office 805-481-3939 or if you like you can just send me a quick email to James@Outlandinc.com. I look forward to working with you. I am driven to help you succeed.

Arroyo Grande Real Estate subdivisions in the area include Equestrian, Highland, Village Glen, Royal Oaks Patio Homes, Royal Oaks Single Family, Grace Lane, Rancho Grande, Los Robles De Rancho Grande, Las Jollas De Rancho Grande.
#LosRoblesDeRanchoGrande #RanchoGrande #ArroyoGrande #RanchoGrandeHomes #ArroyoGrandeHomesforSale #ArroyoGrandeRealtor #OutlandandAssociates
My service includes Arroyo Grande Real Estate, Pismo Beach Real Estate, Shell Beach Real Estate, Avila Beach Real Estate, and San Luis Obispo Real Estate
Real Estate Market update for Los Robles De Rancho Grande Arroyo Grande prepared by James Outland Realtor with Outland and Associates Real Estate. BRE#01314390
Author James Outland Jr.

---