Cherry Blossom Ranch Santa Maria – Central Coast Real Estate Information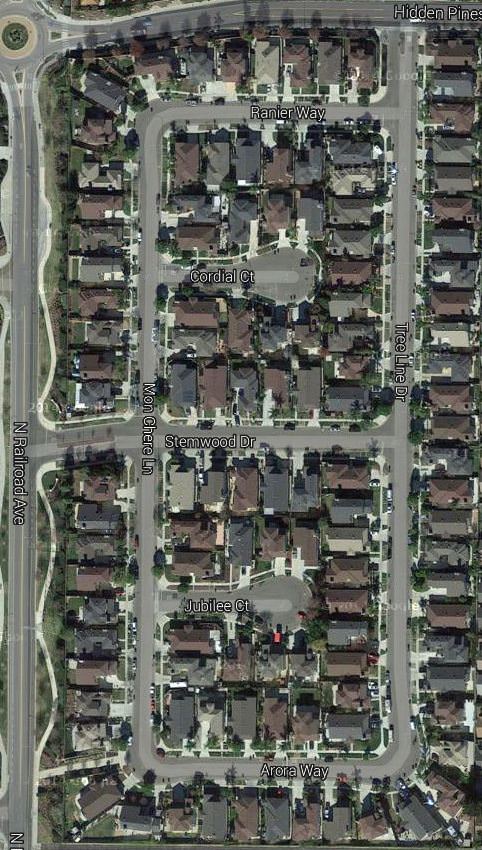 Directions to Cherry Blossom Ranch from Highway 101: take the Broadway Exit, make a right on Preisker Lane follow that down to Hidden Pines Way and make a left, follow that to the roundabout and go left on Railroad Ave, the Entrance to Cherry Blossom Ranch will be your first left, on Stemwood Drive.
Cherry Blossom Ranch is Located in Northwest Santa Maria.  It's within walking distance to Preisker Park, and Tommie Kunst Junior High School. The Cherry Blossom Ranch was built between 2000 and 2001. The homes are a mixture of single level and two story homes.  What I like about this track is that it has two cul-de-sacs for no thru traffic and green best between Rail Road Ave and the Cherry Blossoms Ranch development. The Cherry Blossom development has the following roads in the subdivision; Tree Line Drive, Mon Chere Lane, Ranier Way, Cordial Court, Stemwood Drive, Jubilee Court, and Arora Way.  The development consists of 118 fine Santa Maria homes that range from 3 to 5 bedrooms, two and only a few three car garages, with living space square feet between 1,200 and 2,288.
I'm looking for any original marketing material, brochures floor plans etc.  If you have anything please email James@Outlandinc.com Subject Cherry Blossom Santa Maria.  I would like to make this page the best and most current source for homes in the area.  If you would like to comment about garage sales, lost dogs, please use this page as your community resource.
If you are a home owner looking to list your home for sale, please consider working with Jo Ann Outland and I.  Together as a team we have sold over 1000 Homes, I have sold 650 over the last 14 years.  If you are looking to sell check out my site www.FreeHouseQuotes.com to obtain your current Market analysis.  If you have any questions about the process or the market please call me at the office 805-481-3939.
Buyer's please view current Santa Maria homes for sale at www.jamesoutland.net. Currently NO homes are listed for sale and the market is moving fairly quick.  If you are serious about moving into the Santa Maria Real Estate market place check that site often or ask me to be set up on a custom client portal that will send you updates as they hit the market automatically!  It's a free buyers tool I offer to buyers who are looking to have the jump on properties.  It also does have other benefits like saving and rejecting homes, and being able to only focus on homes that fit your needs saving you hours of searching all over the web to only see the same homes.  It's important to note that Realtor.com/Home.com and the big boys pull listings from our MLS.  Why not get them from the source?  I'm looking forward to working with your real estate needs.  If you need a Spanish speaking Santa Maria Realtor please email James@Outlandinc.com and I will have my Spanish speaking Realtor call back.  Thank you


https://ec2-35-167-6-250.us-west-2.compute.amazonaws.com
Subscription has expired
Please
click here
to get up and running
Recently Sold homes for Cherry Blossom Ranch Santa Maria California for 2015
715 Arora Way Santa Maria Ca 5 Bedrooms 3 Bath, 2288 Sq. Ft. Year built 2001, sold for $365,000. On 7/10/2015
708 Jubilee Court Santa Maria Ca 3 Bedroom, 2.5 Bath, 1745 Sq. Ft. Year Built 2001 Sold for $340,000 on 05/20/2015
2338 Mon Chere Lane Santa Maria Ca  3 Bedrooms 2.5, 1990 Sq. Ft. Year Built 2001 Sold for $337,000 on 3/27/2015
Other developments in Northern Santa Maria include: Essex at Willow Creek, NewCastle at Willow Creek, Parkside, Regency Estates, Preisker Gardens, Riverside Court, and Hidden Pines Estates
My service area is Pismo Beach, Arroyo Grande, Shell Beach,  Avila Beach, San Luis Obispo and beyond.  I have sold hundreds of homes in San Luis Obispo and North Santa Barbara County.
#CherryBlossomRanch #SantaMaria #CherryBlossomRanchSantaMaria #SantaMariaRealtor #Outlandandassociates #JamesOutlandJr #Realtor #RealEstateAgent #FreeHouseQuotes
My Social Sites:   Google+             Facebook            Linked In              YouTube Channel
Author James Outland Jr. Driven to Help You Succeed
---