Bayview Estates Homes for Sale Arroyo Grande California Real Estate
View the Original Sales Brochure for Bayview Estates an exclusive Gate-Guarded Community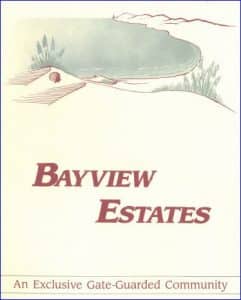 To take a drive out to Bayview Estates from Grand Ave, head south on Halcyon Road, at highway one make a left and then a right to stay on South Halcyon, this is the Ocean Valley and you can see the dunes as you look west, stay on road up the big hill, head straight at the intersection past Mesa School.  When you reach El Campo Road make a right or go west and you'll see the gated subdivision entrance of Bayview estates on your right, and Cypress Ridge will be directly across the street.
Bayview Estates homes for sale are located in a section called the Arroyo Grande Mesa.  This is an established gated community where the homes historically have been precisely maintained and wonderful weather.  It's been my experience after living on the Mesa just down the road that the fog clears first on the mesa during most of the year before it does in the Ocean Valley and the Santa Maria Valley a few miles away.  The cool mass of air on both sides seems to keep the Mesa weather a bit warmer yet not to hot.  If you want to see some historic weather averages go to the weather channel web site type in 93420 and 93444 to see the average weather for the area.  If you are not from around the Arroyo Grande area you may not know that we have the Arroyo Grande Mesa and the Nipomo mesa area, both with great weather in my experience.  The Bayview Estates homes for sale don't come up all that often.  The development features 51 home sites, with a nice common area located close to the center of the development. The open space features a half-court basketball hoop, and three bench locations sitting being the trees. (See aerial) About 10 Bayview Estate homes backup the park, while 21 other homes backyards back to some open space, the size of the open space varies not all homes back to the park or open space. The development is comprised of all single level homes making this wonderful for anyone who is in the market for a single level home on a large lot of around half an acre near country living.  The Bayview Estates homes for sale are built between the years 1991-1994.  Most homes in the development range from 2,200 to 3,131 sq. ft. The floor plans I have viewed have had vaulted ceilings in the living area, Spanish tile floors in the kitchen unless remodeled, offer stucco exterior, Spanish tile roofs and solid wood fences between neighbors. The floor plans have been very usable and were in my opinion designed very well.
From the Bayview Estates homes you'll have shopping just down the road at the Craig Center, multiple golf course communities such as Cypress Ridge, Black Lake, and Trilogy, making this a great retirement place.
Currently Bayview Estates has two homes currently for sale: 2605 Bayside (MLS# 1057899) Place and 2495 Bayside Place (1057867).  If the homes are currently for sale you will be able to access the listing detail by clicking the address.  If the homes are no longer on the market you will want to view the Arroyo Grande Real Estate home for sale on my IDX to see what homes are currently available.  Please note no homes have sold in Bayview Estates in 2015, so they don't come up all that often.


https://ec2-35-167-6-250.us-west-2.compute.amazonaws.com
Subscription has expired
Please
click here
to get up and running
Bayview Estate homes for sale that sold
2475 Bayside Pl Arroyo Grande Ca 93420 4 Bedrooms 3 (3 0 0 0) Baths 2949 Sq. Ft. 0.5000 Lot Size 1992 Year constructed sold for $775,000 on 12/12/14
735 Ridgemont Way Arroyo Grande Ca 93420 3 Bedrooms 3 (2 0 1 0) Baths 2424 Sq. Ft. 0.5000 Lot size 1992 Year Constructed Sold for $665,000 on 09/11/14
2510 Bayside Pl Arroyo Grande Ca 93420 4 Bedrooms 3 (2 1 0 0) Baths 2988 Sq. Ft. 0.5000 Lot Size 1994 Year Constructed Sold for $678,500 on 05/22/14
Are you asking if now is the right time to sell my house?  If you need to know your home's value and are looking to list your home in the next 12 months or less go to www.FreeHouseQuotes.com to get a market analysis of your home.  This is great for owner occupied or out of area home sellers. Get started today.
Other Developments in the area included: Cypress Ridge, Rocking Horse Ranch, Red Tail Meadow, Mirabella Estates, Knollwood at Callender, and Black Lake Ranch Estates
Other Popular streets in the area include: Spanish Trail, Birdie Lane, Mirabella Lane, Par View lane, Mulligan Lane, Pine Ridge, and Valley Oaks Lane.
Take a moment to check out other local developments around the Arroyo Grande Califonria Mesa: BayView Estates, Cypress Ridge, Red Tail Meadows Estates, Mirabella Estates, Black Lake Ranch Estates, Red Tail Meadows, and Knollwood at Callender, Trillogy, Idylwild Westgage, Black Lake, the Willows,
#ArroyoGrande #ArroyoGrandeMesa #BayViewEstates #Bayview #GatedCommunity #Countryliving #Retirement #SingleLevel #RealEstate #OutlandandAssociates #JamesOutland #HomesForSale #SellMyHome
How to connect with James Outland Realtor: Google+         Facebook       Linked In       YouTube Channel
Bayview Estates Home for Sale, track information and Real Estate Market update August 2015
By James Outland Jr.
---