Baron Canyon Ranch San Luis Obispo California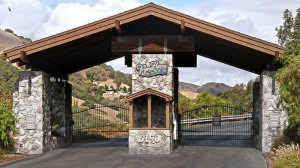 Where is Baron Canyon Ranch San Luis Obispo, California? Baron Canyon Ranch is located in the southern area of San Luis Obispo and North of Pismo Beach California in San Luis Obispo County. Barron Canyon is only a few short miles from the pristine Beaches of Avila and Pismo Beach.
How many homesites are located in Baron Canyon Ranch: This gated Community features approximant 25 building sites with most of them located near the top of the hills.
The following are some of the street names behind the security gate at Baron Canyon Ranch: Baron Canyon Ranch Road, Beecham-Vaughn Canyon, Puma Court, Balm Ridge Way, Balm Ridge Court, Bard Court, Balm Ridge Road, Marshall Drive, and Rocky Creek Ln.
Baron Canyon San Luis Obispo Map

The Baron Canyon Ranch features luxury estates on acreage. Most of the luxury homes feature oak studded lots with wonderful views looking into the Avila Canyon. Depending on the property it may have a view of the Avila Valley and views towards the direction of San Luis Obispo. These views may include views of Bassi Ranch and parts of San Luis Bay Estates across the valley. The homes near the top have a view of Cerro Mountain (known as Madonna Mountain by the locals.) If you enjoy hiking, check out a good source for local trails.
Where do these homes get their water?
The homes get water from the Baron Canyon Mutual Water Company. The current fees are currently $65.00 plus water usage.


https://ec2-35-167-6-250.us-west-2.compute.amazonaws.com
Subscription has expired
Please
click here
to get up and running
Homes do have an HOA fee paid Monthly around $160.00.
What have the home sold for in Barron Ranch? Updated on 04/22/2015
2015: 255 Rocky Creek, San Luis Obispo, Ca 93401, Bedrooms 4, Baths 5,(2,2,1,0) 4031 Square Feet on 2.68 Ac., Year built is 2001. Home sold on 04/10/2015 for $1,700,000.00
2013: 260 Baron Canyon Ranch Road, San Luis Obispo, bedrooms 5, bath 4 (3,0,1,0) 3809 square feet on 1.54 acre, year built was 2002. The home sold on 10/18/2013 for $1,380,000.00, 370 days on market.
2012: 5665 Bard Court, San Luis Obispo, bedrooms 4, bath 4 (2,1,1,0) 5125 square feet on 3.04 acre, year build was 2006. The home sold on 12/19/2012 for $2,195,000.00, 205 days on market.
Homes for sale in Barron Canyon Ranch: (Listings are provided by the MLS IDX)
If you would like to view the homes please check this link. If those home are no longer available please go to my web page and search for current homes for sale www.JamesOutland.net.
Information is from the MLS and Tax Information.
Other Luxury Estate Subdivisions in the area Bassi Ranch, The Bluffs at San Luis Bay, and San Luis Bay Estates, Avila Valley Estates
The development is referred to by some as Baron Canyon Ranch Estates and is most common miss-spelling is Barron Ranch.
Author: James Outland Jr