Casa Tierra Arroyo Grande California 93420 – Central Coast Gated Subdivision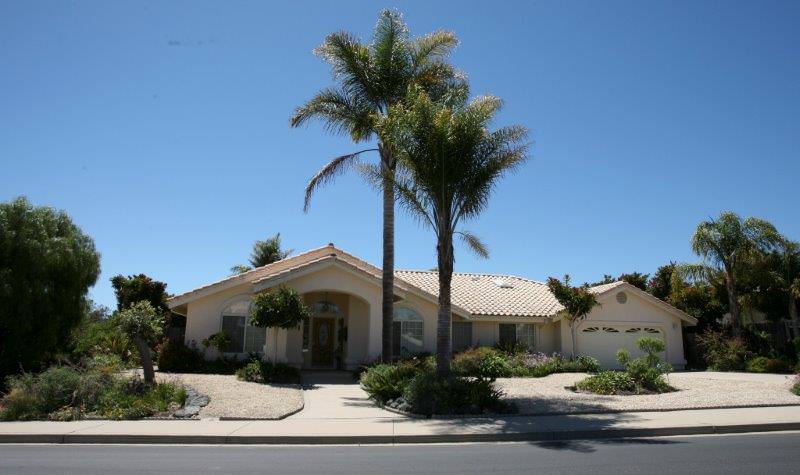 Casa Tierra is located Southwest of the Village of Arroyo Grande.
What is in close proximity to the Casa Tierra: Century Lane, Falcon Crest Estates, The Rose Victorian for Weddings, Sun Rise Mobile homes, the Arroyo Grande Mesa, Agriculture in Arroyo Grande and Oceano, freeway access North and South under 7 miles away off of Los Berros Road, only a few miles drive to Nipomo California or about 22 minutes to Santa Maria, Ca.
The Casa Tierra is a Gated Community that features just two streets, Cathedral Lane and Cornerstone Lane. Homes in the Centurion development were built between 1996 and 1998. The subdivision consists of twenty seven fine Arroyo Grande homes. The Casa Tierra homes are between 3 and 4 Bedrooms, 1,800 – 2,950 sq. ft. on 5K-38K size lots. Most lots in the development are around 10k. The homes in this development are mostly single level homes; homes on the north back side open up to the putting area of the Sunrise Mobile home estates and an area in between with some native oaks and vegetation that buffer between Casa Tierra and Sunrise Mobile home Park.
Do you have any Floor plans, any construction photos, original brochures you would like to share? If you have any development information please let me know as I would like to save it and be able to help give future buyers and sellers more information. My email is James@Outlandinc.com if you would like to help me build this page with more content.
Currently I don't show any homes are for sale in Casa Tierra, however to check current MLS inventory please visit my link to search Arroyo Grande Homes Estates for sale on the Central Coast. If you would like to have a custom home search set up for Casa Tierra or Century Lane or any local Central Coast community please just call me at the office 805-481-393 or email me your search criteria to James@Outlandinc.com.   This is a free service over 700 buyers I'm working with currently are using to view homes for sale! It's a great tool to help a buyer like you.
If you are looking to list your Casa Tierra home and would like to know what homes are selling for in Arroyo Grande and in your area please go to Arroyo Grande Free House Quotes so I can get started on a market analysis for your home. This is a great seller tool to know not only home values but to help you understand what proceeds you can expect from the sale of your home with an estimated sellers Net Sheet.
Casa Terra Arroyo Grande, Ca. please zoom out to see the defined location.



http://ec2-35-167-6-250.us-west-2.compute.amazonaws.com
Subscription has expired
Please
click here
to get up and running
Central Coast MLS - IDX Arroyo Grande Ca SFR houses for sale,
Recent Market Activity as stated on the Central Coast MLS for the Casa Tierra Market 2013 - 2014.
160 Cornerstone Lane Arroyo Grande Ca 93420 3 Bedroom 2 Bath 2575 Sq. Ft. on .890 Lot, built in 1998 sold for $780,000 on November 25th 2014
160 Cornerstone Lane Arroyo Grande Ca 93420 3 Bedroom 2 Bath 2116 Sq. Ft. on .548 Lot, built in 1997 sold for $591,000 on March 7th 2013
2850 Cathedral Lane Arroyo Grande Ca 93420 3 Bedrooms 2 Baths 2335 Sq. Ft. on .241 Lot, built in 1998 sold for $560,000 on January 13th 2013.
#CasaTierra #ArroyoGrande #GatedCommunity #ArroyoGrandeRealtor #CasaTierraArroyoGrande #Outlandandassociates #JamesOutlandJr #Realtor #RealEstateAgent #FreeHouseQuotes
My Social Sites:   Google+             Facebook            Linked In              YouTube Channel
Casa Tierra Arroyo Grande California 93420 Real Estate Market
Created by
James Outland Jr.
---